Here's Why Viewers Should Binge Watch Season 2 of Mr. Robot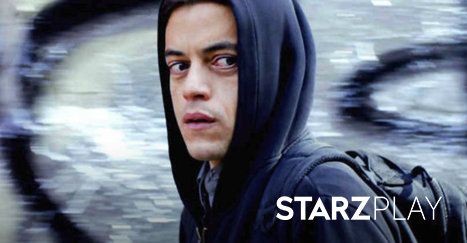 Hacktivists rejoice!
Season 2 of Mr. Robot debuts on STARZ PLAY this month. Viewers better pick a free day to watch because this is one show they'll want to binge.
2 Reasons to Watch Season 2 of Mr. Robot in One Sitting
At the end of season 1, the hackers had successfully attacked E Corp, deleting thousands of people's debt and creating economic chaos around the world. And audiences learn that Mr. Robot is Elliot's alter-ego, in the form of his dead father.
STARZ PLAY customers can only guess where the show will go next. Here are two reasons it will be hard to stop watching season 2 of Mr. Robot.
1. The Drama Gets Even Darker
Without giving away too many spoilers, season 2 finds Elliot living with his mother and attempting to stay off the grid. He is grappling with the consequences of his attack and trying to control his mind to keep Mr. Robot out. However, Elliot's moral dilemma causes a few problems with Darlene, who doesn't seem to share his level of remorse. Elliot's internal struggle will play a big role in season 2 as viewers will begin to understand more about the character.
2. Plot Twists Galore
If season 1 revealed anything, it's that this show is unpredictable. A few characters seemed to have multiple agendas (i.e., Tyrell and Whiterose), so audiences aren't sure where allegiances lie. Plus, the government suspects fsociety's role in the attack so viewers will be on the edge of their seats watching the cat and mouse game between the FBI and the hackers. Except bigger and unexpected bombshells in season 2.
Better Get the Popcorn Ready
Viewers better get their popcorn ready and clear their calendar, because once they start watching season 2 of Mr. Robot, they might not stop until the end.