Jane the Virgin has been a considered a guilty pleasure by some and a forward-thinking, stereotype-breaking phenomenon by others. It's been a fan favorite since episode one – and it doesn't seem to be slowing down.
The season three finale will be airing this week to the dismay of many fans. Here's a look at the highs and low of season three and what can be expected from the finale of Jane the Virgin.
Jane the Virgin – What They Brought Us in Season Three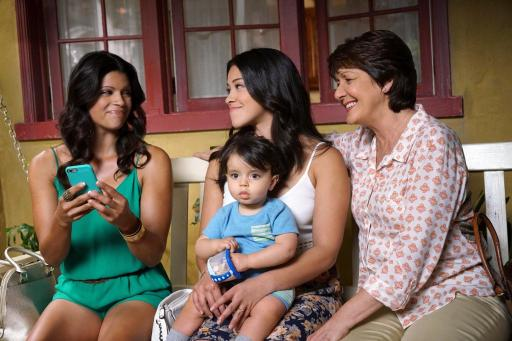 Season three of Jane the Virgin started with Jane's husband, Michael, in critical condition. He had been shot in the season two finale. Thankfully, he survived, and he and Jane were able to enjoy building a life together. They live happily as a family with little Mateo, working hard and going to school.
Unfortunately, that wasn't long-lasting. To the dismay of Jane the Virgin fans, Michael experienced an aortic dissection caused by the gunshot wound. His death occurred while he was taking his LSATs – just as he and Jane had been discussing having a child together.
Besides the shock and heartbreak of Michael's death, the season brought us very real, very relatable highs and lows.
Jane and Mateo's father, Rafael, began to have some parenting issues. This is hard enough when parents are together, but even more difficult when they're living separate lives and dealing with jealousy.
One of the high points of the season is when Jane is offered a publishing deal for her novel. The writers and actors do a great job of keeping the viewer's emotions all over the place!
What's Been Revealed About the Season Finale
Writers, producers, and actors have been hush-hush about what to expect from the season finale. There have been, however, two items of interest that have been revealed, albeit not in detail.
1. Jane's Husband Returns
No, Michael hasn't been resurrected. But he does return to the show in a flashback. It's been a few years since Jane's husband has died. It will be interesting to see why he returns and what (if any) wisdom he will have to impart.
2. The Finale Will Pave the Road for Bigger Things to Come
Though they didn't go into detail about what bigger things are to come, those associated with Jane the Virgin told Entertainment Weekly that the finale would lay the groundwork for some exciting things to come. Season four will see Jane accomplishing some exciting things personally and professionally.
STARZ Play: Providing Viewers with the Best in Streaming Entertainment
The Season Three season finale of Jane the Virgin will air on May 23rd. Sign up for STARZ Play to watch this and more. For a small monthly fee, viewers get to watch unlimited movies and TV shows – all of their favorites at an affordable price.
Summer programming will start soon, which means a lot of favorites will be wrapping up with their season or even series finales. Don't miss any of it. Sign up for STARZ Play today!