Leonardo Da Vinci is one of the greatest minds in history. His art, writings, inventions, theories, and philosophies have all been studied and dissected over the centuries. And finally, someone made an intriguing show to capture the man behind the name.
Da Vinci's Demons first aired in 2013 and ran for three seasons. It's received an 80% fresh rating from Rotten Tomatoes and eight out of ten stars on IMDB.
The box set is now available on STARZ Play. That's right – viewers can watch Da Vinci's Demons from start to finish anytime they want via streaming on STARZ Play.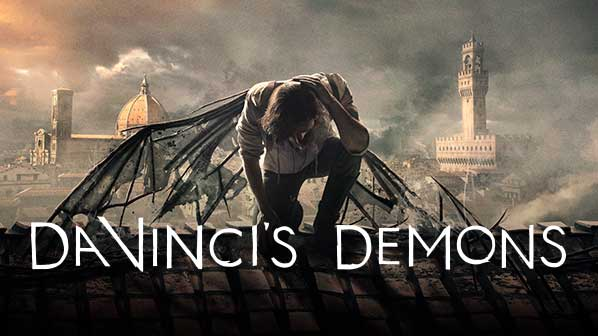 Da Vinci's Demons: Why You Should Watch
Da Vinci was a man who didn't just see what the future could be, he invented it as he went along. Imagine what kind of life he led. On the one hand, it must've been amazing to have such an amazingly creative brain. On the other, it must've been frustrating to be around people who didn't see the world the same way.
Da Vinci's Demons explores the early years of Da Vinci. What would the life of a twenty-five-year-old Da Vinci look like? It would be full of love, lust, wonder, adventure, and plenty of struggles.
The Renaissance period, though viewed through modern eyes as an age of fantastic art and enlightenment, was still a time of close mindedness and fear.
What makes this series so special is that it looks in on the early years of Da Vinci instead of the later years. Anytime Da Vinci has been portrayed in film or television, it's after he's gained success and the respect of his peers. In this series, though, Da Vinci is trying fervently to prove himself as one of the greatest artists, inventors, and thinkers of his time.
Tom Riley portrays Da Vinci. He's an actor that is not only easy on the eyes, he's someone that was able to encapsulate the energy and passion that a viewer would imagine Da Vinci really had for life.
Other reasons to invest the time in this series:
Viewers are shown how Da Vinci's mind works.
Get a look into the love life of a brilliant, though struggling, artist.
Learn about the wars and politics of the time period.
Watch Da Vinci's Demons and More on STARZ Play
STARZ Play is the source for movie and television entertainment. Simply pay a small fee each month to receive access to hundreds of titles that are available to watch whenever, wherever.
Whether a viewer wants to binge watch their favorite show from pilot episode to series finale or some of their favorite movies of all time, all of it is available through STARZ Play.
Take a look at all the titles STARZ Play has to offer. The selection is truly impressive. Get started today and be one of the first to be able to binge watch the incredible Da Vinci's Demons.