For people who love horror movies who've been waiting for a television show to come along that will actually scare them, the wait is over. Outcast Season one has arrived and is coming soon to STARZ Play. We're thrilled to add a show like this to our rotation as we strive to deliver the best in entertainment across every genre. Here's why Outcast Season 1 is a can't miss: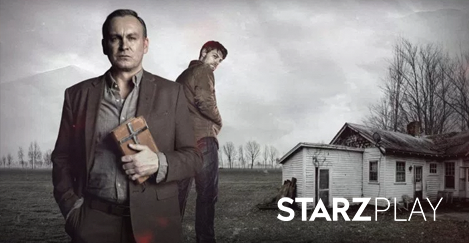 1. The Source Material is a Comic Book by Robert Kirkman
Sound familiar? Robert Kirkman is the man behind The Walking Dead, cable television's most watched show, so it's safe to say he knows how to please an audience. Outcast goes deeper into psychologically complex issues and expertly deals with heavier themes that a lover of this genre will surely appreciate.
2. Outcast is Legitimately Scary (SPOILERS)
The plot centers around a small town in Appalachia where residents are suffering from persistent demonic possessions. The man who has a special, unwanted ability to exorcise these demons. Kyle, the exorcist, is suffering with his own demons, after surviving a traumatic childhood and the possession of his own mother.
There are so many levels to this show that make it scary in so many different ways. Viewers will scream, cringe, and try not to look. It's gruesome and suspenseful as a great psychological thriller that expertly knows how to get under the audience's skin.
3. The Show Boasts Talented Cast and Crew
A lot of the cast might look familiar because they've appeared in such critically acclaimed shows as Boardwalk Empire, The Wire, The Office, and Star Trek: The Next Generation. With talent like that on screen, it's no wonder Outcast is thrilling and endlessly watchable.
The music and cinematography are beautifully put together, too, and elevate the show to another level. The score was done by an Academy Award winning composer and beautifully amplifies the creepiness of the show. At times, Outcast feels more like a movie than a television show, thanks to the hauntingly beautiful shots of scenic Appalachia and the way these characters are captured on film.
4. Well-Written Characters Explore Universal Themes
While the audience may not have to cope with demonic possession, the deeper themes of Outcast will touch a nerve with anyone. The plot explores the ideas of faith and survival, and what that means for the characters when the world around them is essentially becoming the most horrible of places. The characters are well written – flawed, easy to identify with, and reminiscent of people you may run into in daily life.
Tune In to Outcast Season 1 on STARZ Play
For viewers who have been waiting for a television show to come along that will scare them on multiple levels, it's time to get excited. Outcast Season 1 has arrived on STARZ Play.
Don't miss it and all of the other great movies and television shows available on STARZ Play for a low monthly fee.