Fans of Power, rejoice! The STARZ drama produced by and starring 50 Cent returned for its fourth season at the end of June. For anyone who's been anxiously awaiting its return or looking for a reason to tune in this season, here are a few reasons why it's one of the best shows on television.
It Picks Up Right Where Season 3 Left Off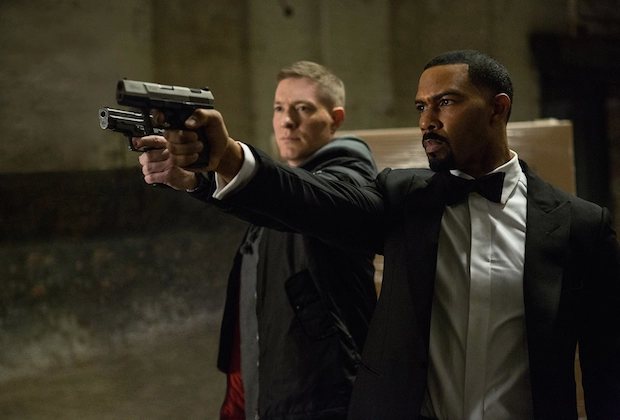 The end of Season 3 saw James "Ghost" St. Patrick arrested for the murder of a federal agent – a murder that the drug-dealing nightclub owner didn't commit. While he's innocent of the crime he's been accused of, how much will his other crimes impact his time in jail, the outcome of his trail, and the love of his family? Season 4 wastes no time picking up after Ghost has been arrested.
It Has a Definite Theme
Season 4 puts a major focus on redemption. Ghost's world came crashing down when he was publicly arrested for a serious crime. This season will follow Ghost's attempts to make things right in the eyes of Tasha, Angela, and the world despite the fact that he is, in fact, a criminal.
There's a redemption story for the two central female characters, too. Ghost's wife, Tasha, struggles to make peace with who she is and her role in the world, while U.S. Attorney Angela will have to deal with arresting the wrong man.
Its Love Triangle Got a Whole Lot Messier
While Tasha is Ghost's wife and the mother to his children, he's carrying on an emotional and sexual affair with Angela. After his arrest, it's clear that Angela doesn't believe his innocence, and Tasha has to step up and be there for her husband – all this while trying to cope with her son's abduction. Add to that the fact that Angela and Tasha have their own relationship, and it's easy to see how much is at stake for each corner of this love triangle.
It Has So Many Other Characters to Explore
In addition to Ghost, Tasha, and Angela, there are so many other developments fans are waiting for in part because the supporting cast is made up of great talent and developed characters.
Will Tommy be able to keep their empire going, and how will his relationship with Ghost withstand the murder charge? What will happen with Kanan and Tariq – and how much should we worry? How will Ghost's lawyer, Joe Proctor, approach the trial? Will he be able to help Ghost beat the murder charge?
Don't Miss the New Season of Power on STARZ Play
To get answers to these questions and find out what's next for the Power players, tune into Season 4 of Power on Starz PLAY. This exciting and emotional drama will surely have its fans on the edge of their seats.
We're so excited to share the next chapter of this acclaimed drama along with all of our other entertaining shows and movies, all available on STARZ Play.