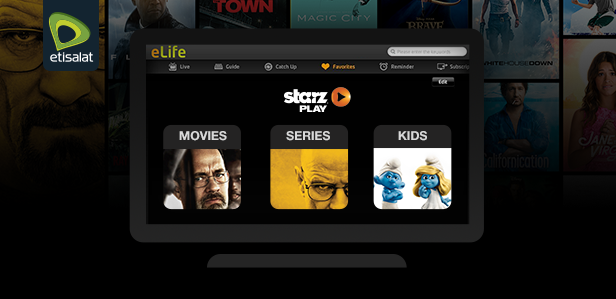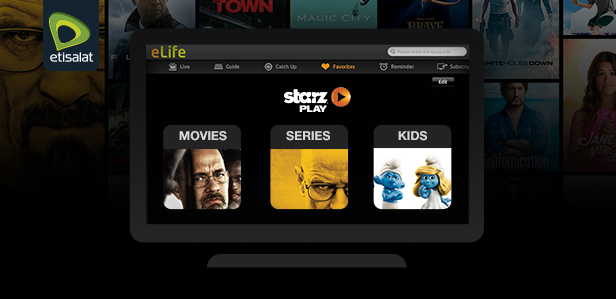 Starz Play Arabia announced the launch of an exclusive partnership with Etisalat, which will offer a wide range of blockbuster Hollywood movies and latest series to Etisalat's eLife TV customers.
Etisalat subscribers can now enjoy thousands of hours of the best Hollywood movies, original series & kids entertainment for free with their 30-day trial directly on their Etisalat eLife TV. After the free trial, users can continue getting access to the content for AED 30 per month and that includes unlimited streaming of HD movies and series.
Starz Play Arabia is a multi-screen video on demand service that allows streaming on hand-held devices, laptops and smart TVs. The 30-day trial will be exclusively available in the UAE via Etisalat eLife TV package starting today.
Etisalat eLife customers can watch more than 3,000 hours of TV series and movies that are available for viewers in HD and Arabic subtitles. Hollywood series will be available at the same time as it is released in the US, meaning customers no longer have to wait for content to come to the region. In addition, all past seasons of popular content will be available so that customers can binge watch entire box sets uninterrupted and without commercial breaks.
eLife subscribers can look forward to enjoying exclusive content including CBS's "Jane the Virgin", MGM's popular Fargo and Showtime's "The Affair".
As for kids content, Starz Play offers programmes like Disney's "Frozen", Dreamworks's "Kung Fu Panda 2" and Sony's "Sunny With A Chance of Meatballs 2" and much more.