Sports fans, get ready for an unforgettable weekend of live sport! STARZPLAY Sports is proud to present an exciting lineup of upcoming competitions that are guaranteed to leave you on the edge of your seat.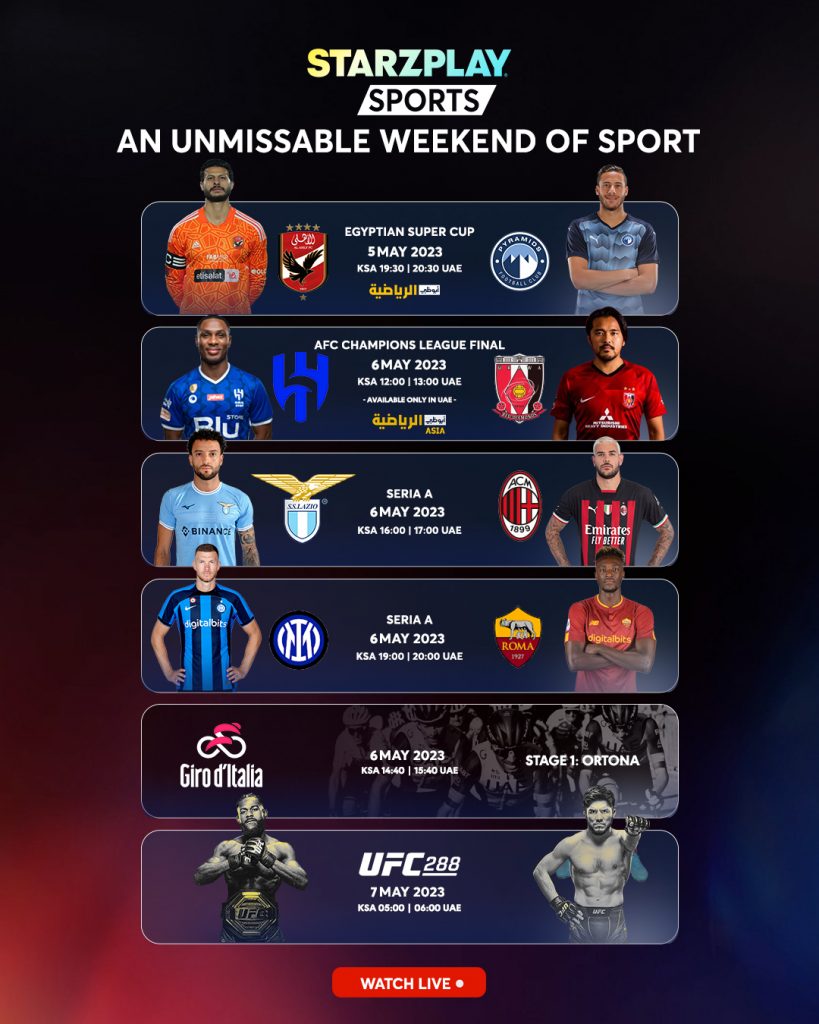 Kicking off the weekend is the highly anticipated Egyptian Super Cup, taking place on May 5th, live from Abu Dhabi. This exciting match-up between two of Egypt's top teams, Al Ahly and Pyramids FC, promises to be a fierce battle for the coveted trophy. Catch the match live on Abu Dhabi Sports 1 via STARZPLAY on May 5 at 20:30 UAE.
Next up, the AFC Champions League Final 2nd leg when Urawa Reds play Al Hilal with the score 1-1 after the first leg. The Reds go into the match with an away goal advantage but defending champions Al Hilal will rise to the occasion to defend their title on Saturday May 6th at 13:00 UAE time. The match will be available on the UAE only on Abu Dhabi Sports Asia 1 via STARZPLAY.
With Napoli winning their first Serie A League title in 33 years on Thursday the focus is now on who will take the 3 remaining Champions League spots. With only a few points separating 6 teams, every point is crucial and 4 of those teams are in action against each other. It's the Rome teams vs the Milan teams as AC Milan host Lazio and Roma face Inter Milan. Mark your calendars for May 6th at 17:00 and 20:00 UAE respectively. Watch 4 of Serie A's big guns face off in the race for the top 4 live on STARZPLAY Sports.
Moving from the pitch to the octagon, UFC 288 is stacked with a mouthwatering main event on May 7 at 6 am UAE. Featuring two of the biggest names in mixed martial arts, this event is sure to be a knockout. Sterling will be coming of an 8-fight win streak and will put his belt on the line against Cejudo, Olympic gold medalist who is considered to be one of the best fighters in UFC history. Watch this Bantamweight World Championship: Sterling (c) vs. Cejudo – a champ vs former champ match live on UFC Arabia on STARZPLAY Sports with fights with Arabic commentary!
Last but not least, the 21 Stage Giro d'Italia starts on May 6th and will be streamed live and exclusively on STARZPLAY Sports, promising to be an incredible race that will challenge even the most skilled cyclists. Giro d'Italia is one of the biggest and most prestigious cycling races in the world and UAE Team Emirates will be a dominant force.
With so many incredible events happening this month, there's never been a better time to subscribe to STARZPLAY Sports. So, mark your calendars, set your reminders, and get ready for an unforgettable month of sports action.
Social Tags: Instagram @starzplayarabia, Facebook @starzplay, Twitter @STARZPlayArabia , TikTok @starzplayarabia TikTok, YouTube @STARZPLAY-SVOD YouTube