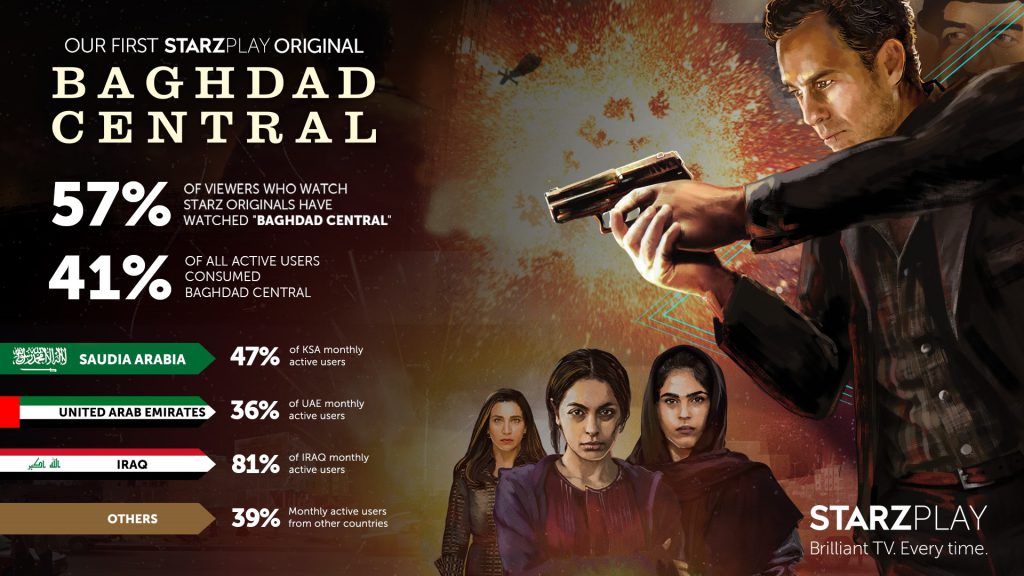 STARZPLAY, the leading subscription video on demand (SVOD) service in the MENA region, has recorded overwhelming response from its subscribers for its original content, underpinning how audiences in the MENA region are eager for original home-grown production.
This is reflected in the extraordinary response that STARZPLAY original, Baghdad Central, the network's first production, has received. The thrilling drama series, according a study, was watched by 57% of STARZPLAY viewers who consume STARZ originals while 41% of all active users followed the six-part mini-series.
Marking a departure from series conceptualized and produced by foreign studios, 'Baghdad Central' is a compelling example of how stories from the region are finding increasing resonance among viewers.
The show is set amidst the chaos of American-occupied Baghdad in 2003 and follows Iraqi ex-policeman Muhsin al-Khafaji (Waleed Zuaiter) who has lost everything and is battling daily to keep himself and his sick daughter, Mrouj (July Namir;), safe. When he learns that his estranged elder daughter Sawsan (Leem Lubany) is missing Khafaji is forced into a desperate search to find her. He soon finds himself up against her enigmatic university tutor, Professor Zubeida Rashid (Clara Khoury) and discovers that Sawsan and her two close friends Sanaa (Nora El Koussour) and Zahra (Maisa Abd Elhadi;) have been leading a hidden life that's led them into great danger.
The unique, detailed and regionally nuanced story sparked the highest appreciation from the country it is set in, with 81% of monthly active Iraqi users enjoying the show of local flavour. Saudi audiences loved the show with 47% of monthly active users – nearly one in two – glued to the gripping drama that offers a mix of mystery and excitement along with some incredible performances. Original entertainment fans in the UAE found the visually distinctive TV drama watchable with 36% of monthly active users – more than one in three – addicted to the show while 39% of STARZPLAY's monthly active users from rest of the region also loved the nail-biting script.
Khaled Benchouche, SVP Programming & Acquisitions, STARZPLAY, said: "We are truly proud of the response to our first original production, which has been extremely successful in the region. We wanted to bring a show that our Middle Eastern audiences could relate to, and from our data we realise that there was a real need for such authentic series in the region. Our subscribers are looking for world class entertainment and Baghdad Central is the perfect dual-language drama that offers easy viewing with a mix of regional flavour. We believe that the region needs home-grown production, and as a homegrown player, we understand the aspirations of our viewers, which is why we keep investing in original local productions."
Waleed Zuaiter, Corey Stoll, Bertie Carvel, Leem Lubany and July Namir join an international cast for the crime thriller Baghdad Central, written and created by BAFTA-nominated writer Stephen Butchard (The Last Kingdom), produced by Jonathan Curling and based on the novel by Elliott Colla. If you haven't watched it yet, tune in to STARZPLAY and binge-watch the mind-blowing original show that's set in a unique place and will take you on an awe-inspiring journey.
With more than 10,000 hours of premium content including blockbuster movies, exclusive TV shows, kids content and Arabic series, STARZPLAY is today the number one player in the MENA region. The service is available in 20 countries across the Middle East, North Africa and Pakistan for fans to enjoy quality content anytime, anywhere and from any device.